White Christmas Party Ideas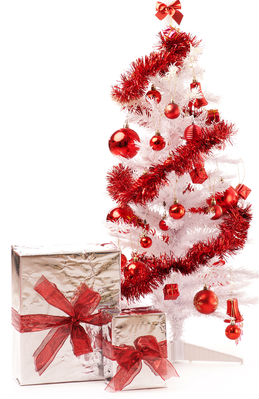 Who doesn't dream of a white Christmas?  Using this theme idea is the perfect way to kick off the winter season.  Learn how to transform any party venue into the perfect winter wonderland setting.
Obviously, a white Christmas party theme should be based on the color white. 
Many people use this color for every aspect of the party, and others choose to pair white with a complimenting color, such as silver, gold, or pastel blue.  My personal favorite is the white and silver combination.
Let's start with some invitation ideas for this theme.
Invitations
Things like snow, snowmen, and a winter snow scene are associated with white Christmases. 


So use some of these ideas, or something similar for the basis of your invitations. 


One of the easiest and eye appealing designs for this theme, is to use a white cardstock with a snow related background. 


Your writing can be a deep silver color, which will add that sparkling effect to your snow scene.
White Decor

For your decorations, use lots of white lights to accent your entire venue.  If you are having your party at home, deck the outside of your home with lights too.
Pick up some artificial snowflakes, which you can get at any dollar store, and hang them from the ceiling at varying lengths.  This will give the illusion of a true snowfall in the room. 

White candles are also good compliments to the rest of the decor.  The glimmer from your candles and your string lights will make everything else in the room sparkle.
Of course, you'll want to have a Christmas tree displayed somewhere in the room.  In keeping with the theme, use lots of white and silver ornaments, and finish it off with any kind of white garland.  Instead of using the traditional red tree skirt, opt for a white skirt instead. 

You can find what's called a "sparkling snow" tree skirt at any department or dollar store.
If you have the space, create a few winter snow scenes throughout the room.  The best place to do this is on the window sills.  No matter how narrow, you can easily fit a few figurines across the window sill. 
Use pulled sparkly cotton to place in between the figures, to create the illusion of snow on the ground.
White Christmas Party Table Decorations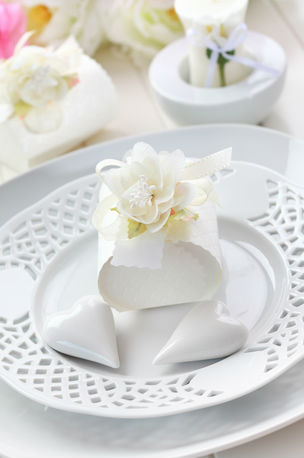 If you can, serve all of the food in white serving bowls.  If not, use disposable aluminum pans so that everything is uniform.  Use silver serving utensils, and spruce them up by tying white bows on the ends.
Use a white tablecloth for your food table.  You can also go to any local fabric shop and buy a snowflake designed tablecloth.  If you have the space, sprinkle silver confetti on any empty spaces on the table.  Hang some of your artificial snowflakes from the ceiling on top of your food table. 

Try to incorporate the color white into your food too.  The best way to do this is with dessert.  Serve vanilla iced Christmas cookies, cake or cupcakes with white icing, or white chocolate desserts.  Have some whipped cream on hand too.  Guests can use it to top their pies and hot cocoa.
Ask your guests to help out with the ambiance too.  Suggest that they wear white and/or silver (or blue, gold, etc.) to the party.