North Pole Christmas Party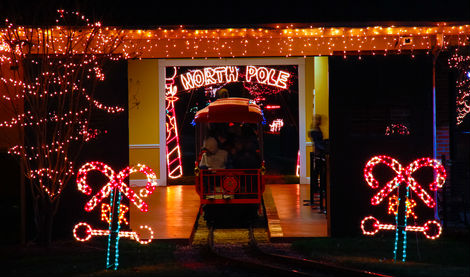 A North Pole Christmas party can be fun for guests of all ages.  Use this theme idea to turn your home into the ultimate Santa's Workshop scene.
For this theme idea, you'll want to make your party venue have the look and feel of an authentic to workshop, filled with tons of colorful decorations and snow scenes. 
Just think of all those holiday movies you watch every year.  Use those images to bring your party to life.
Christmas Invitations

For your invitations, use the classic Christmas colors - red, green and white.  You can use a red and white striped border around white card stock, and green writing.

Add an image of an elf, or something else associated with the North Pole.  The imaged can be a background silhouette, light enough for the writing to go on top, or it can be added to one of the corners of the invite.

On your invitations, encourage your guests to wear red and green, or to dress up as elves.
North Pole Christmas Party Decorations

For your North Pole party decorations, use a lot of colorful lights.  And you don't have to stick with just red and green. 

Make your decorations look whimsical by using plenty of colors, and stuff related to Santa and elves.
Outside of your home, or any party venue, add a North Pole sign to welcome the guests.  You can use a tree trunk, mailbox stand, or simple get a thick stick to dig slightly into the ground. 

Whatever you use, cover the pole with red and and white streamers, and add your sign on the top.  You can also get an elf cutout at any party store and glue it to the side of the pole.
| | |
| --- | --- |
| | Now, on to the tree.  A red and white tree will fit nicely with this theme.  But there are plenty of other options here.  If you are using a traditional green tree, deck it with lots of reds, greens and whites.  Use a variety of ornaments in all shapes, garlands, fake snow, and whatever else comes to mind. |

If you want try something totally different, decorate your tree with lots of winter weather stuff.  Use Santa hats, glove, snowflakes, little elf and penguin ornaments, and use long scarves as garlands.
Christmas Party Table Decorations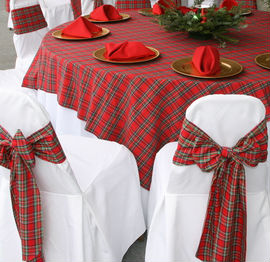 Use red, green and white serving dishes and utensils.  Your local dollar store carries tons of winter home decor, where you can find serving dishes decorated with all sorts of winter/Christmas designs.  Use any combination of red, green and white for your tablecloth.

In addition to everything above, try to get Santa himself to make a visit to your North Pole Christmas party.  Ask one of your guests to dress up as Santa, and he can be responsible for giving out small party favors.