Christmas Dessert Recipes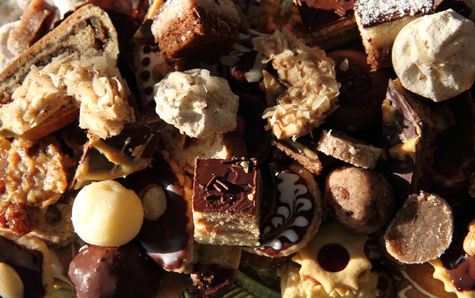 Use these Christmas dessert recipes to add tasty cakes, pies and cookies to your holiday dinner table.  Nothing tops off a great holiday meal like something sweet.
These Christmas dessert recipes will yield about 10 to 12 servings.  Select about 3 or 4 different dessert, and you will have enough to feed about 40 people in total.
Christmas Dessert Recipes

Peach Cobbler - a southern favorite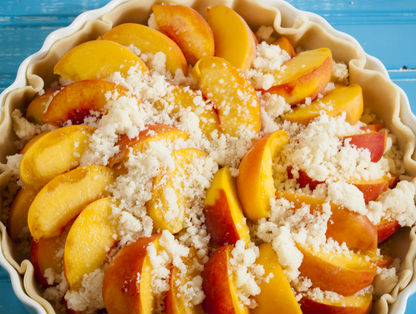 -2-32 oz. cans of sliced peaches
-1 cup white sugar
-1 cup brown sugar
-2 tablespoons flour
-1/2 stick of butter 2 boxes of ready to bake pie crust
-Cinnamon & sugar mix

Pour juices from peach in a large saucepan, and cook over medium-low heat.

Stir in sugars and butter, continue to cook for 15 minutes.

Sift in flour and cook uncovered for another 15 minutes.

Add peaches and slightly increase heat. Cook until mixture starts to boil.

Take a casserole dish and coat the bottom with margarine.
Cover the bottom of the dish with 2 of the pie crusts, making sure they overlap in the middle to prevent the peaches and juice from seeping through.
Pour the peach mixture over the pie crusts.

Take another pie crust and cut into squares. Carefully place the cubes down into the mixture, which will form dumplings as they cook.

Take the remaining pie crusts to cover the mixture. Again, overlap them in the middle.
Melt about 1 tablespoon of margarine and brush over the crust.

Lightly sprinkle the cinnamon sugar mix over the top.

Bake at 400 degrees for 35-40 minutes.

Let stand for at least 15 minutes after removing it from the oven, and serve warm.
For a really decadent dessert, serve with vanilla ice cream.
Sweet Potato Pie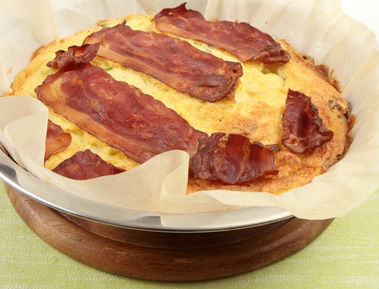 -2 large sweet potatoes, peeled and diced.
-1 stick of butter or margarine.
-3/4 cup white sugar
-1/4 cup brown sugar
-1/2 cup of milk
-2 whole eggs
-1/2 teaspoon nutmeg
-1 teaspoon cinnamon
-1 teaspoon vanilla extract
-1 ready to bake pie crust


Cook potatoes in water until they are soft.
Combine potatoes, butter sugars, milk and eggs in large bowl.
Add in the rest of the ingredients, 1 by 1, until mixture is smooth.
Place pie crust into pie pan, making sure edges are covered too.
Pour in potato mixture evenly.
Bake at 350 degrees for about 1 hour, or until filling is firm, and pie crust is golden brown.
Chocolate Covered Strawberries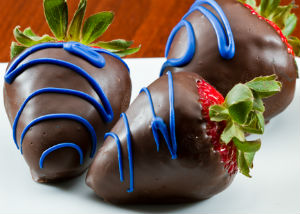 -3 packs of fresh strawberries.
-1/2 pack of semisweet or milk chocolate morsels
-1/2 pint of light cream
-glass mixing bowl
Rinse the strawberries, pat dry and set them aside.

Pour about 3 cups of water into a saucepan.

Place the glass mixing bowl on top of the saucepan, and add the morsels and cream.

Heat the water over medium-high heat.

As the water is heating, frequently stir the morsels and cream until the chocolate is completely melted and smooth.

Remove from heat.

Dip the entire strawberries (except the leafy green part), one by one, into the chocolate.
Allow excess chocolate to drip off, and place strawberries onto a plate, about 1 inch apart.

Refrigerate strawberries for a couple of hours, or until the chocolate becomes firm.
Serve chilled.
Fudge Brownies
Variation of the Betty Crocker Recipe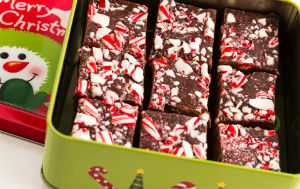 -1 box of Betty Crocker fudge brownie mix
-2 large eggs
-2 tablespoons of water
-1/2 cup of butter or margarine
-2 tablespoons of instant coffee (any brand)
-red and green chocolate sprinkles
-1 package of chocolate frosting

Follow the baking instructions on the Betty Crocker box.

Once everything is mixed together, add the coffee to the mixture.

Grease the bottom of a baking pan with butter or cooking spray.

Pour in mixture, making sure the mix is evenly distributed throughout the pan.

Bake as directed on the box.

After the brownies are done, remove them from the oven and let stand for about 5 minutes.

Add a thin layer of chocolate frosting, and garnish with crushed candy canes.
Super Easy Ideas for Your Christmas Dessert Recipes

Pushed for time, spruce up store bought food for your Christmas dessert recipes:

Red and Green cheesecake - Take a plain cheese cake and drizzle it with strawberry juice, then sprinkle with green M&Ms.
Peppermint spiced hot chocolate - Simply make cups of hot chocolate topped with wipped cream, and garnish with a peppermint candy cane,
North Pole ice cream sundaes - Serve vanilla ice cream drizzled with strawberry sauce, and garnished with red sprinkles and a cherry.
Peppermint milkshakes - Serve white mint chocolate chip ice cream, topped with crushed peppermint candies.

Need even more Christmas dessert recipes, bake some Christmas cookies.