Breakfast with Santa Party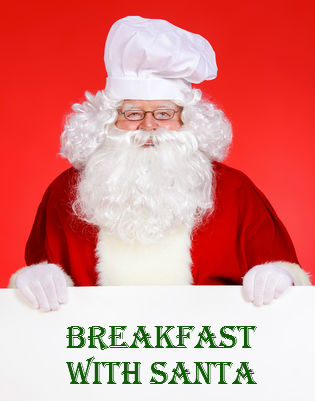 Breakfast with Santa is a unique holiday celebration, and it's a great theme idea that focuses on family and friends spending time with each other during the holiday season.
In addition to making sure that Santa is in the house, these party ideas are a good place to start if you are interested in having a breakfast with Santa party.
Christmas Invites

Focus on images related to Santa Claus for your invitations.  Use a red and white Santa hat, or a picture of Santa with his sack of goodies.


Since Santa always wears a red and white suit, those are to two best colors to use for every aspect of your party, including the invitations.
One idea is to use red card stock with white writing, and add a cutout of a Santa hat to one of the corners.
Breakfast with Santa Christmas Decor

For this party idea, most of your guests will be sitting down to enjoy their breakfast, so make sure you pay extra attention to your table decorations.


Use red tablecloths with white tableware, and some white flowers or floating candles for your centerpieces.  Other options are Christmas candles and garland, glass bowls filled with white ornaments, or fill a clear vase with white tissue paper, and put a santa hat on top.
If you're going to have a tree, deck it with red and white ornaments, white snowflakes, and top it with a Santa hat. 

For your tree skirt, use the traditional red skirt, and lots of gift box displays, wrapped in combinations of red, white and silver wrapping paper and big gold or red bows.
Christmas Breakfast Ideas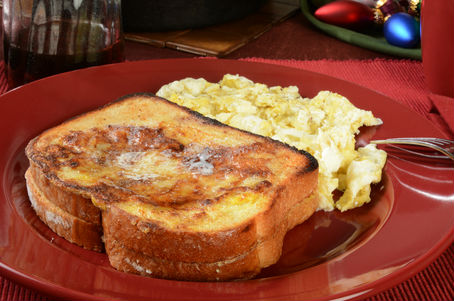 The focus of this Christmas party is, of course, the food.  So serve up a filling breakfast spread, with lots of variety.  Here are a few food items to consider:
Pancakes with maple syrup
Breakfast sausage or bacon
Scrambled eggs or an omelet station
Breakfast potatoes
French toast
Bagels with different kinds of cream cheeses
Muffins and donuts
Cheese tray

If you are having a small get-together, in which everyone will have a seat at the same table, just put all of the food on that table instead of setting up a buffet.

Even though you'll be serving up breakfast foods, this is a great party theme for any time of day.  Most people use this party theme for a Saturday morning breakfast or a Sunday brunch.